Exterior painting is painting the outside of a building or home. This type of painting is different from interior painting in a few ways. First, the painted surfaces are usually larger and more varied in shape and texture. Additionally, exterior paint is formulated to withstand harsh weather conditions, such as wind, rain, and sunlight. It is also more resistant to fading, peeling, and cracking than interior paint.
Exterior House Painting in Portland, Oregon
Paint your house the color you have always wanted!  We are experts in exterior painting and can help you choose the perfect color for your home.  Our team will work diligently to complete the project on time and within budget.  A fresh coat of paint can completely transform the look of your home.  You will be amazed at how different your house looks once we are finished with it.
Schedule a free consultation!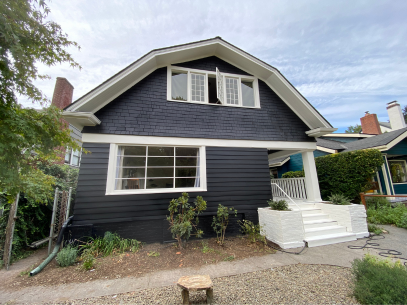 Benefits Of Exterior Painting
There are several benefits to having the exterior of your home or building painted. Some of the main benefits include:
Improved curb appeal: A fresh coat of paint can give your home or building a clean, polished look that increases curb appeal and value.
Protection from the elements: Exterior paint provides a protective barrier that helps to shield your home or building from the effects of weather, such as wind, rain, and sunlight.
Increased durability: Exterior paint is formulated to be more durable than interior paint, so it is less likely to peel, crack, or fade over time.
Energy efficiency: Exterior paint can reflect sunlight, which can help to reduce heat gain in your home or building and lower your energy bills.
Easy maintenance: Exterior paint helps to seal and protect the surface of your home or building, which makes it easier to clean and maintain.
Customization: Exterior painting allows you to choose from a wide range of colors and finishes, so you can customize the look of your home or building to suit your style and preferences. 
What does Exterior Painting include?
Choose the right time of year to paint. A dry time of year is ideal since paint won't stick to a wet surface.
Contact – Call 1859 Painting to get your exterior painting in Portland can be done on your decided time & date with high-quality professional work.
Choose quality over price.
Make sure all prep is thorough. Prep work can include pressure washing, scraping off old paint, removing mould, and sanding.
Repair and replace as needed. The paint doesn't stick to the rotten siding. As we do the prep work on your house, we may find repairs that need to be done. Where there is damage, we will either repair it or, in some cases, if severe damage has occurred, recommend a contractor.
Start with a coat of primer. Stains, tannins, rust, and bare/new surfaces often require a coat of primer. Different primers are needed for various reasons. Let 1859 Painting make sure your surface is prepped and primed properly.
Choose the right paint for the job. At 1859 Painting, we use the highest quality Miller paint.
Protect the landscape. We'll cover your landscaping, bushes, and other vegetation as part of the prep work. Any outdoor furniture, hoses, grills, more., will be moved or covered using drop cloths.
Pros of Working with 1859 painting
Buying a home is probably the biggest financial investment you will ever make. Therefore, you'll want to protect it and keep it looking as nice as possible. When you choose 1859 Painting to paint your home's exterior, you'll raise its curb appeal and improve its overall value. Our local exterior house painters Camas, WA homeowners recommend, can help you update and maintain your home. It's the perfect way to make a great first impression for your business!
Having your home or commercial building's exterior painted regularly should be part of its overall upkeep over the years. A quality, the professional paint job will protect your home from the wear and tear of the elements. It can also protect your siding from weather damage or rot. As licensed, bonded, and insured local exterior house painters in Camas, WA, our team's work will fully protect your home from the weather and make it look beautiful for as long as possible. We'll fully prepare the exterior of your home before starting to paint, ensuring the paint bonds perfectly.
Leave any external painting to the professionals from 1859 Painting. When we're done with your exterior painting project, you'll love how your home looks and can be confident that your siding will be fully protected from the elements. If you're ready to get started with any of our services, fill out our online form today to schedule a FREE estimate.
Who We Serve?
Our Service Area Consists of:
97005
97045
97007
97015
97078
97008
97030
FAQs About Exterior Painting
How often should I paint the exterior of my home or building?
The frequency of exterior painting will depend on various factors, such as the age of the paint, the type of paint used, the climate, and the condition of the surface. It is recommended to repaint a home's exterior every 5 to 7 years or as needed to maintain its appearance and protect it from the elements.
Can I paint the exterior of my home or the building myself?
While it is possible to paint a home's exterior or build it yourself, it is a big job requiring a lot of time, effort, and specialized equipment. Suppose you are not experienced in exterior painting. In that case, it is recommended to hire a professional contractor to ensure the best results.
What type of paint should I use for the exterior of my home or building?
Several types of paint can be used for exterior surfaces, including latex, oil-based, and acrylic. Latex paint is the most common type of exterior paint, as it is easy to clean up, dries quickly, and is resistant to fading and peeling. Oil-based paint is more durable but takes longer to dry and is more difficult to clean up. Acrylic paint is a good choice for masonry surfaces, as it is resistant to cracking and fading. It is important to choose a paint specifically formulated for exterior use and suitable for the type of surface you are painting.
How much does it cost to paint a home's exterior or building?
The cost of exterior painting will vary depending on the size of the home or building, the condition of the surface, and the type of paint used.
READY TO FIND OUT MORE?
Drop us a line today for a free quote!